Upholstery Cleaning Professionals in New Orleans, Metairie Kenner LA
Miracle Clean has the training and experience to clean all types of upholstery including cotton, linen, wool, rayon, nylon, polypropylene, and polyester. We can even safely clean specialty fabrics such as velvet, silk, jacquard, chenille, Haitian cotton, and more.
Your upholstery will be cleaned by a company who has been trained and certified by the IICRC (Institute of Inspection Cleaning and Restoration Certification). This means we've been properly trained to clean all types of upholstery.
Low Moisture Upholstery Cleaning
Extra care is taken to use a minimal amount of moisture on your upholstery. And in some cases, we dry clean your upholstery, but only when absolutely necessary. Miracle Clean's low moisture upholstery cleaning removes more soil than dry cleaning. As well, our low moisture process doesn't use harmful chemicals, as does dry cleaning.
The cleaning is done with a special hand tool with no mess or no overspray. In fact, we even put down a drop cloth to assure there is no mess.
Get an upholstery cleaning estimate by Clicking Here
Here's How Your Upholstery is Cleaned
Step 1: Pre-Inspection
Before starting, we do a special test to determine the type of fabric. This helps determine the cleaning solutions and techniques used. We'll also point out any potential permanent stains or areas of concern.

Step 2: Prepare the Area
The area where the upholstery will be cleaned is prepared to protect your surrounding furnishings.

Step 3: Pre-Vacuuming
We perform a thorough vacuum before cleaning. This step makes our low moisture cleaning system more effective.

Step 4: Pre-Treating
Depending on your fabric, a special solution designed for your fabric type and the soiling condition will be applied to "emulsify" the soil.

Step 5: Pre-Spotting
Potential stains are pre-treated with special solutions to increase chances of stain removal.

Step 6: Pre-Grooming
We use soft brushes to gently agitate and loosen the soil.

Step 7: Soil Extraction and Rinse
Your upholstery is extracted with low moisture.

Step 8: Neutralize
The PH is neutralized and balanced out to leave a soft, fresh feel.

Step 9: Post Spotting
Remaining spots will be treated with special stain removal products.

Step 10: Post Grooming
Fabrics with a pile (such as velvet) are gently combed with a special fabric brush.

Step 11: Speed Drying
High velocity air movers are placed on the upholstery to speed up the drying.

Step 12: Post Cleaning Inspection
Last, we review the cleaning results with you to insure your expectations have been met or exceeded.
*For longer fabric life and reduced permanent stains, we recommend Fabric Protector applied after cleaning.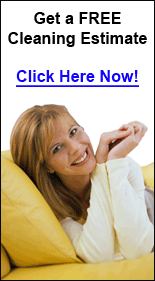 You can get all these cleaning services:
If you have stubborn odors, our profesional Odor Control processes can help. If your home or office has been affected by water, damage can be minimized with Water Damage Restoration services.
If your carpet needs Carpet Repair, we do that too. And if you're health conscious about the way your home is cleaned (we are too), we have a program specifically for cleaning for Healthier Living.